Bill Teeple has been named the Music Director for the Lex-Ham Community Band starting in January 2023. 

Bill will follow Austin Virasy-Ertelt who is leaving the position after eight years.

Bill was born in Michigan where he graduated from Central Michigan University in 1988 with a degree in Vocal Music.  While at Central, he studied trombone and voice.  He was in marching and concert bands for three years, concert choir for three and as member of the Opera Workshop, performed two operas.  He studied conducting with John E. Williamson and Nina Nash-Robertson.

His career turned out to be in Information Technology and he has been a System Administrator at small to medium businesses.  Most recently Bill has been employed at Boston Scientific supporting custom apps and everything else for the sales staff.

Bill believes that music and the arts are integral to a healthy society. We are all capable of contributing to a thriving arts community in some way.  Find that way and strive to grow a little at a time.  Bill lives in St. Paul with his wife Julie Schramke (from the flute section) and two collies. 
The Lex-Ham Community Band is a volunteer community-based concert band that performs a mix of marches, show tunes, big band arrangements, popular tunes from throughout the decades, and other pieces from the classic concert band repertoire.
The band rehearses at 7:30 p.m., on Sunday nights in the band room in the Music/Fine Arts Building at Concordia University-St Paul (300 Hamline Avenue N in Saint Paul) and performs at senior homes, parks, and at other community events.
The Lex-Ham Community Band hosts the BandWidth Music Festival annually. 
BandWidth Music Festival 2024 is scheduled for 12:00 noon until 6:00 p.m., April 28, 2024 at the Landmark Center in downtown Saint Paul.
The Lex-Ham Community Band is directed by Bill Teeple.
Learn more about the band by reading the Member Information document
See a list of the music in the Lex-Ham Community Band's repertoire
Follow us on: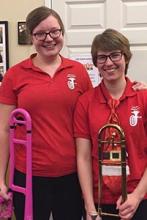 Sarah Schultz
Band member
"My sister and I love playing in the Lex-Ham Band! Growing up, we were too far apart in age to be in band together. It's so fun getting to play music with the Lex-Ham community and with each other".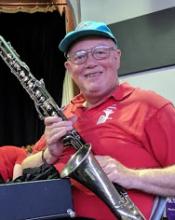 Gregg Downing
Band member
"I've been playing bass clarinet in the Lex-Ham band since I retired in 2011. I really enjoy the relaxed atmosphere. I can't remember a time when I didn't have fun at rehearsal or a performance."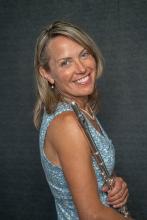 Pam Johnson
Band member
"I love playing with the Lex-Ham Community Band! Even during the constraints of this past year, we stayed connected by playing some virtual pieces together and a few safe outdoor events this summer and fall. I very much look forward to creating good music and camaraderie again in person when we are able to do so!"