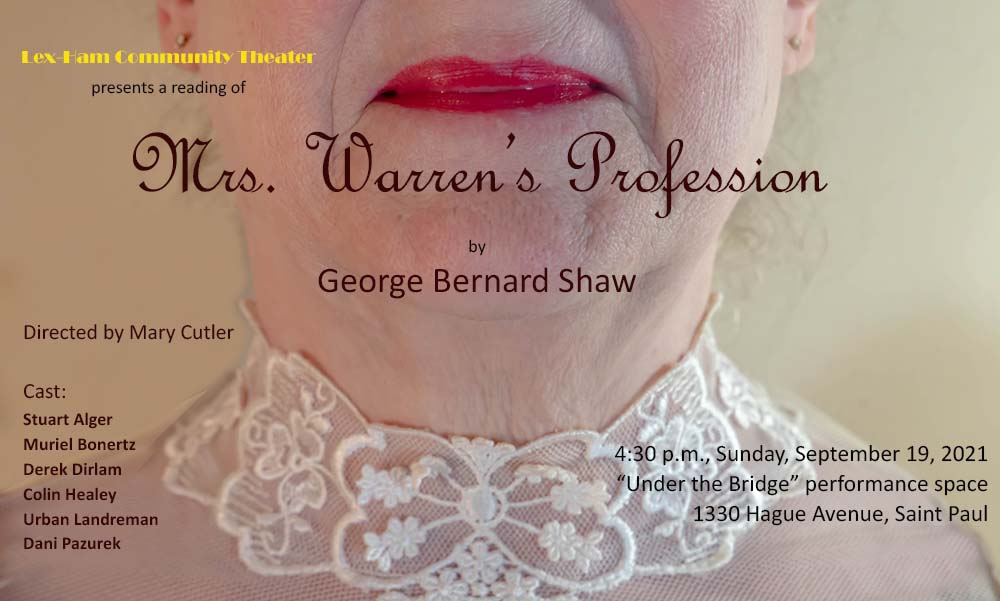 Follow the drama when a mother's past collides with a daughter's future in this reading of George Bernard Shaw's Mrs. Warren's Profession.
The reading is directed by Mary Cutler.
The cast includes:
Stuart Alger - Sir George Crofts
Muriel Bonertz - Mrs. Warren
Derek Dirlam - Frank Gardner
Colin Healey - Praed
Urban Landreman - Rev. Samuel Gardner
Dani Pazurek - Vivie
The reading will take place at the "Under the Bridge" performance space underneath the Hamline Avenue Bridge (near Hague Avenue) in Saint Paul.  Set your GPS to 1330 Hague Avenue.
Watch Director Mary Cutler and the cast members talk about the play and the characters in the play.
Bring your folding chair or blanket and enjoy this reading.  Follow the usual and current Covid guidelines.
Event location
"Under the Bridge" performance space
Event address
1330 Hague Avenue, Saint Paul, MN, USA